Landlord Certificates in Eastbourne
Tectonic have been electricians in Eastbourne & East Sussex for over 30 years, helping both domestic and commercial customers with all their electrical needs like providing electrical certificates for landlords, homeowners & business owners.
Landlords Responsibilities
Landlords have a legal duty to ensure that any electrical equipment, including the electrical installation, is safe before a new tenancy begins as well as throughout the tenancies duration.
In June 2020 private landlords must have all their rental properties electrical installations checked by a qualified electrician, like Tectonic. To do this you are required to have an EICR (Electrical Inspection Condition Report) carried out prior to a new tenancy starting and going forward have them tested every 5 years.
Using A Competent Qualified Electrician 
It's important for you to know that any installations, minor works, and electrical testing comes with a certificate and any notifiable works to build control also comes with a certificate, showing you the test results and or works carried out. When finding an electrician to carry out works for you, make sure you check that they are a registered and qualified that can provide you the appropriate paperwork.
That being said, at Tectonic we are NICEIC approved contractors and domestic installers in Eastbourne & East Sussex, we get assessed annually by the NICIEC who check all of our test certificates whilst checking actual works we have carried out, how we organise our test sheets, any complaints, H&S policy and risk assessments, as well as checking our insurances are up to date they ensure that all our engineers are regularly continuing their training with CPD.
We pride ourselves on our training every month, updating our knowledge on the electrical regulations and the latest technology to continue providing our customers a quality service.
Electrical Inspection Condition Report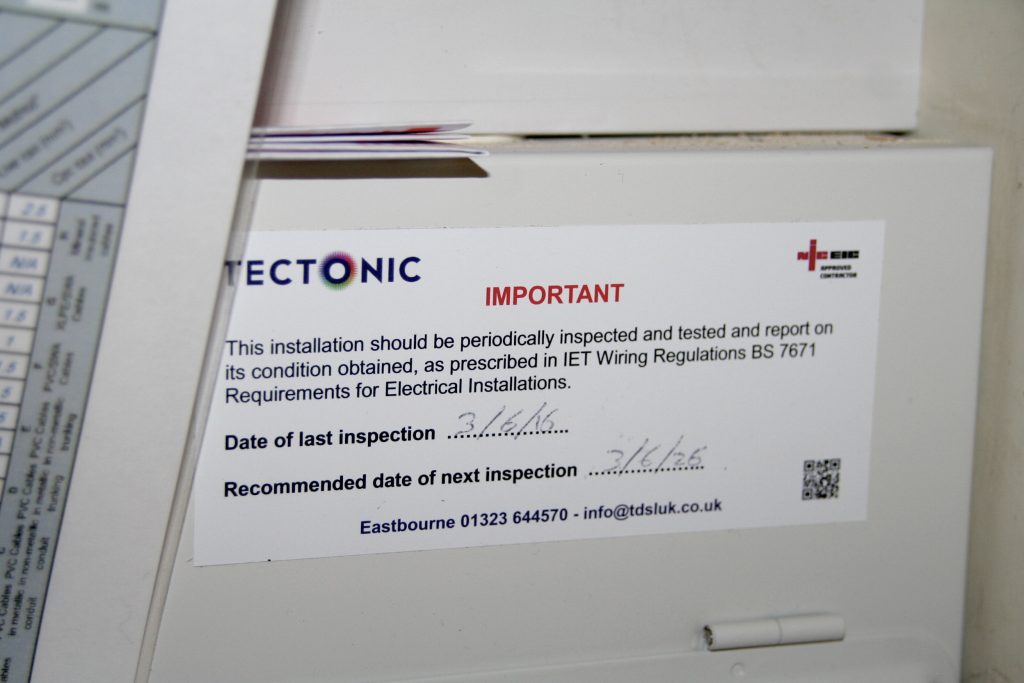 An EICR is a report on the current condition of the electrical installation in a building, with a combination of visual inspection to note down any visible damage and electrical testing, to build a report which will either state the installation is satisfactory, advise of any recommended works or unsatisfactory.
How do we display this? This is done by coding, it will show on your certificate and there will be a list of codes advises what could/should be done for improvements, here are the codes below:
C3 no immediate or potential danger but improvement will enhance the safety of the installation.
C2 could become real and immediate danger if fault or foreseeable event was to occur in the installation or connected equipment.
C1 danger exists and requires immediate remedial action, immediate risk to persons using the installation.
If there are any codes we will notify the customer, if there is something that can be done whilst on site we will get it done but alternatively we will provide you with an estimate listing the codes and the associated works. It's important to note that remedial works must be carried out within 28 days of the EICR.
PAT Testing
If you are providing electrical goods as part of your tenancy, things such as cookers, fridge freezers, kettles and washing machines, it's always worth getting them PAT testing and labelled as such so you can keep a record of it being marked as passed or failed and act if an item needs disposing and replacing, helping to keep your tenants safe.
Jargon Buster
EICR – Electrical Inspection Condition Report
PAT Testing – Portable Appliance Test
CPD – Continued Professional Development