The Apprenticeship experience
We've noticed a lot of advertising for Apprenticeships and we wanted to share our experience with our apprentices and share some information about getting in to the electrical trade via the apprenticeship Scheme, whether you'd like to become and electrician or want to become and office administrator.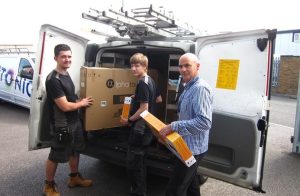 Our electrical apprentices Adam (22 years old) and Will (19 years old) are in their 3rd Year into their NVQ Level 3 Electrical Apprenticeship at the local college Sussex Down College via JTL, who approached us about employing apprentices in 2014, they're nearly half way to completing the course. This has been and continues to be a great opportunity for them to earn whilst they earn, gaining the skills and qualifications with a mixture of theory and practical lessons at college as well as gaining the practical experience whilst on site with our approved engineers everyday. It isn't just a great opportunity for them but also for us as an employer/business, taking on apprentices give our engineers and MD a chance to teach whilst on site, and this opportunity doesn't always come around, and it helps with our engineers personal development in this industry to be able to take an apprentice on-site and demonstrate or instruct them to do a certain task.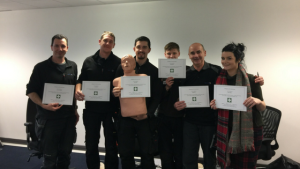 Although Adam and Will are training in the electrical field, Tectonic also carry out a wide range of services that include, aerial and satellite services, CCTV, security, Access Control and Data & Fiber-optic solutions, not only does this give them a great experience of working in the electrical services but also learning and training onsite on our other services, which gives them a very varied range of experience to help them in their future careers. As well as this we include them on our group training as we are investing into their career we want to make sure they get out as much as they can out of this experience, just recently we all completed our Emergency First Aid @ the work place at the beginning of February this year, this is a great skill to have behind them and lifesaving when working on site in their teams.
Being apart of the NICEIC for several years acts as a good learning tool for our apprentices too, why? Because of their recently introduced competition Apprentice of the Year, a series of questions and exams, awarding the lucky winner a massive goody bag of gadgets and tools but also holiday vouchers, this is a great incentive for them to strive for success and give them some healthy competition. Not only this but the NICEIC send out monthly news letters with helps blogs about the electrical industry as an apprentices and have recently been trying to promote more female electricians. NICEIC also regularly post very informative TechTalk webinars which can easily be accessed and can be used as a great learning tool for Adam and Will but also our engineers for their continued learning in the industry.
At the very end of 2014 Rhian joined the Tectonic team as our office manager to over see the day to day administration work as a Business Administration apprentice with Sussex Downs College and City & Guilds. Different to Adam and Will's apprenticeship this was purely a work-based apprenticeship and the tutors would come to the office to meet Rhian and speak with our MD about the course and progress. This adapted the subjects she would cover so she could cover what she worked with on a daily bases and add onto her existing knowledge and cover the subjects she doesn't know about such as HR and health and safety, which she really enjoyed. Rhian passed with flying colours in October 2016 and applying her skills in the office on a daily basis and is now currently studying Level 2 Bookkeeping and Accounts and Level 2 Computerised Accounts with Sussex Downs College Adult Courses after already completing Level 1 Bookkeeping.
Celebrating their success on social media
https://www.instagram.com/p/BPfDRBBDwQz/?taken-by=rhianmeowmay
https://www.instagram.com/p/BQdJ-foBobX/?taken-by=tectonicdigitalsystemsuk
For more information regarding about becoming an apprentice take a look at the pages below: