How To Get An EV Charger Point Installed In Eastbourne
The Tectonic team are OZEV (Office of Zero Emission Vehicles) approved installers in Eastbourne and surrounding areas in East Sussex since 2017.
With electrical vehicles becoming more popular, 1 in 8 new vehicles introduced to the road last month for were electric as shown in the Society of Motor Manufacturers and Traders recent data, now is the perfect time to get thinking out EV charging.
Whether you already have an electric car or van, excitingly waiting for one, debating whether to switch to electric when you next upgrade your vehicle or you're wanting to provide charging at the workplace for your staff & client, here's how we can help you install your charger at home or at work.
What We Need
Here's some of the information we like to get from you from first contact to make sure we can give you the best possible service
Customer details
Make & model of your car
Charger point site survey
Your timeline
Why Do We Need To Do A Survey?
For us to give you an exact cost of your installation we would need to carry out a site survey, below we've added what happens on a survey. This will show us if there's any upgrades to your fuse board or any potential obstacles  in the way that would effect your installation, therefore giving you and exact total cost for your install so you can make your decision to go ahead or not with all the information prior to works starting.
Charger Point Site Survey Checklist: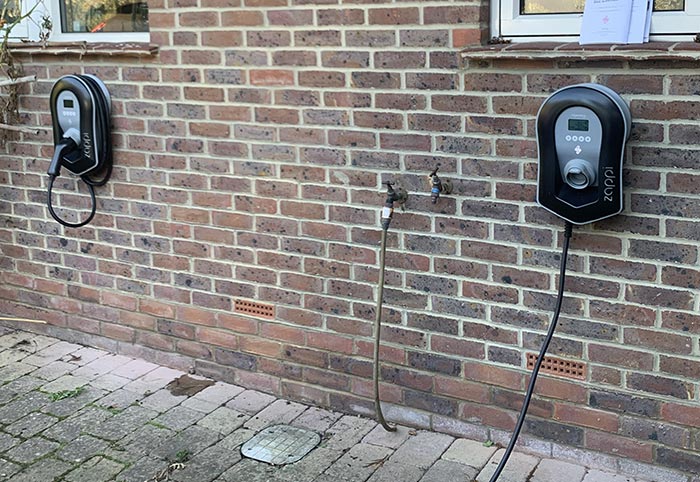 Is there adequate demand
Check the bonding
Identify supply characteristics
What type of earth system in currently being used
Rating and condition of the existing distribution equipment
Has the fixed wiring been recently inspected or check when next inspection is due
Check if planning permission is required
Is there surge protection installed
Check the mobile data signal available
Find a suitable location for equipment that customer is happy with
Is the proposed charge point location within WiFi range
Is there capacity on the customers existing router for additional connection
Carry out a risk assessment for the installation
Government Grant Schemes & OZEV Approved Installer
If you have decided to go ahead with an EV charge point install, Tectonic can help you see if there are any grants available to help save money towards your installation. A current grant scheme which has proven popular with our customers that own a business is the Workplace Charging Scheme, this offers £350 towards your install per charger allowing up to 40 charging points across all sites. Tectonic are OZEV approved EV charger installers in Eastbourne & East Sussex, what this means is that we authorised to install your charger point within the grant eligibility requirements, this includes the customer needing to use an OZEV approved installer as well as using a OZEV approved charge point, this can be a bit overwhelming if it's not something your used to researching and that's where we come in.
Jargon Buster
EV- Electric Vehicle
WCS – Workplace Charging Scheme
OZEV – Office of Zero Emission Vehicles
OLEV – Office of Low Emission Vehicles
Not 100% sure on what car to look at? Take a look at Top Gear's Best Electric Cars 2022 countdown here to give you give tips and ideas that my benefit you.