DATA INFRASTRUCTURE & NETWORKS, SUSSEX
Specialist solutions and lower losses.
We can supply, terminate, fusion splice (on site) and even repair damaged fibre. We can install data cabling to support commercial businesses and domestic clients along with schools and council offices, to gain fast and reliable data networks that are tested, commissioned & certified.
We also offer identification, repair and fault diagnostic services for both fibre and copper cabling. Inspection and cleaning of fibre optical terminations with end view images are provided along with reports. Additionally we map and provide reports along with certification sheets on both copper and fibre installation or a mixture of both.
More of our capabilities include splicing of both single mode and multi-mode fibres OM1, OM2, 0M3 and OM4, loose or tight buffered all of which can be terminated via associated pig tails in the standards you require (LC, SC duplexed etc), duct pulling and identification of cables and ducting routs, cable management and supporting of new and existing cabling.
We offer specialist solutions with high immunity interference fibres and lower losses. Patch rails, pig tails, patch leads, cabinets, PDUs and submersible jointing kits are all held in stock. We can multiplex a CCTV camera signal for both analogue and IP into fibre networks and reconvert to copper or alike, extending the range. Additionally, we can provide fibre back bone for IRS communal TV systems for shared dwellings over long distances.
We can help you with a wide range of services including:
Cabinets
Cable identification
Cable management
Commissioning
Copper cabling
Fault location
Fibre optic
Fusion splicing
Installation
Patching
Repair
Verification
Wi-Fi
Wireless point to point links
Cat5e
Cat6
Screened STP and unscreened UTP
RJ45 termination socket
Patch rails
Cable management
Patch leads
Cabinets
Identification
Repairs
Certification
Multimode
Single mode
Loose tube
Tight buffered
Ducting
OM1, OM2, OM3, OM4
Terminate
Fusion splice
Polishing
Multiple wavelength bidirectional testing
Visible light identifications
8 or 9/125um
50/125um
62.5/125um
85/125um
Wi-Fi access points, point-to-point and hot spots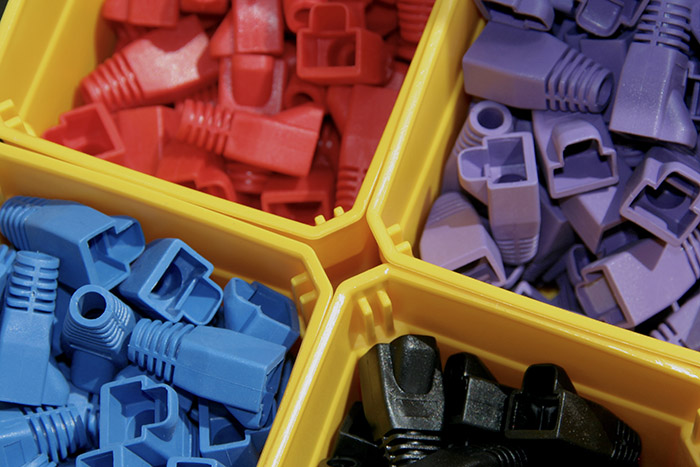 We can offer small or large scale Wi-Fi solutions to improve both internal and external connectivity. Wireless secure data links can be provided between buildings or sites where it is not possible or cost effective to install ducting between buildings, by meshing multiple access points across large areas providing improved coverage for both commercial and domestic dwellings. We can offer you a solution whether you require two offices connected together or just the kids' games consoles and your iPhone connected reliably. Give the office a call on Eastbourne 01323 644570
Contact us today and we'll get you connected.