Signtek's Charity Golf Day For St Wilfred's Hospice
The 15th September 2017 will be the 2nd year we have sponsored a hole for Signtek's Charity Golf Day for St Wilfrid's Hospice.
Spend a day playing golf with your team from work, family and friends for the day at the Wellshurst Golf Club after getting a coffee and bacon roll on arrival. Not only that there's prizes to be won in the raffle and auction and your chance to win a car. AND a dinner in the evening with the winning presentations for the winners.
All the proceeds go to St Wilfrid's Hospice from the event, after last year's event raising over £9000 there is a new target set in place for £10,000. If you'd like to take part or even be a sponsor like us find out more here.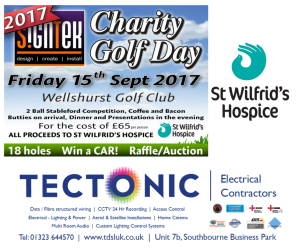 If you can't make the event but you'd still like to donate you are more than welcome to, either popping into our office in Southbourne Business Park or Signtek or go direct to St Wilfrid's and help make a difference.