Why Should I Keep My CCTV Maintained Regularly?
At Tectonic, we have been CCTV installers in Eastbourne for over 15 years as well as fault finding and repairs. You may have CCTV installed or maybe you have inherited it from a previous business owner or previous homeowner, it turns on and appears fine, images all come up!  Does this mean you can just leave it running indefinitely without maintenance?
Simple answer, no. Many people forget the maintenance and the upkeep of their CCTV system until it is too late, then when they find they need it, after an incident or possibly just checking on a previous movement they wished to go back on and it's not there or notice that a camera picture isn't showing.
Simply seeing an image on a screen doesn't mean the system is working or even recording, on most systems you have multiple streams providing different resolutions, so it is important to know what sort of image resolution you are anticipating to playback at a later date, finding out it was never recorded in the 1st place is somewhat frustrating and could have serious repercussions.
Some of the issues we find when maintaining systems are simply forgotten the password or login in details which can make the system redundant, or requiring factory resetting causing loss of all data stored, faulty power supplies leaving cameras inoperable, actuator belts broken jammed iris's & most common no infra-red or night vision working (normally only noticed on playback) . These are just a handful of problems we have come across in the past. Some systems don't warn you if you have a faulty hard drive or camera, you may even have switched these alarms off without realising it only to find when you need the information it is not there,  this is most common on self-install or low-end products being fitted incorrectly, by having your equipment regularly serviced and maintained you will be able to get the best out of your system.
Reasons to have CCTV maintenance
To check that the system is functioning correctly.
Check the playback of the recording device.
Visually inspect and clean cameras look for any vandalism that may have been caused or cable damage.
Clean the cameras to ensure that the images are clear (we've put some examples below).
Check that the cameras are positioned correctly and haven't moved – are they were you want them and are they getting the angles you require?
Check the Manufactures customer support to update the equipment hardware and software.
Check that there is sufficient storage capacity for the data to be recovered before it's overwritten.
Check both DC & AC ELV power supplies and battery capacity.
Check UPS is functioning.
Check remote access.
Confirm monitoring is functioning.
Why we clean cameras
This example if you look closely you can see little green pieces of rubber which were the teeth, this is actually the ptz belt drive wearing out.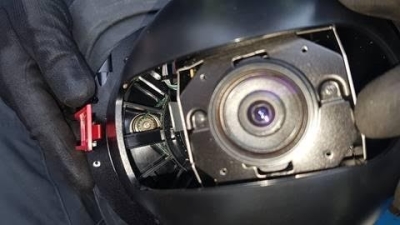 Example of nature taking its course with spider webs and dead insects covering the camera lens obstructing a clear view.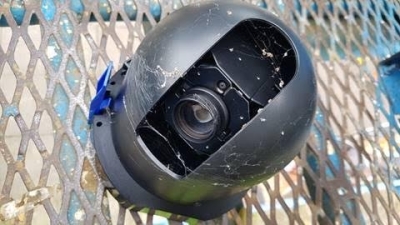 Again here with dirt and dead insects stuck in the camera enclosure.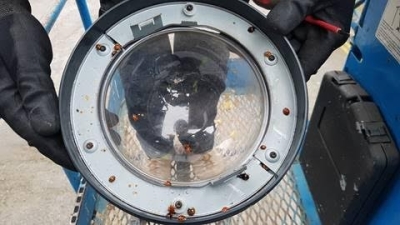 Can I get someone to show me how to use my CCTV?
Yes, Tectonic can help so if you find that you are struggling to use your existing system or not sure how to take off the data you need we can help with a 1-2-1 demo answering your questions and showing you the basics.
All you need to do is give us a call at the office 01323 644570 and book an appointment with an engineer or you can email us via our contact page here.
I want to upgrade my system
No problem we can assess with most existing systems which are open protocol and adapt what you already have or look at having a completely new system taking advantage of the newer technologies and superior image quality now available. All we need from you is to know what your specification is and to carry out a site survey and then we can provide you with a no obligation quotation.
We have experience with many different systems both analogue & IP, standard and HD using Coax, fibre and structured cabling optimised by partnering with some of the best and simplest to use VMS (video management system) some of which are listed here , Axis, BPT, Dahua, DDS, Dedicated Micros (DM), Fermax, Hikvision, Honeywell, iVMS, Milestone, Nest, Panasonic, Paxton, Pelco, Philips, Qvis, ring,  Samsung, Sky bell, Sony, Swan, Ubiquity, W Box.