Electrical Vehicle Home Charger Point Installation in Eastbourne
Here at Tectonic we are OZEV approved, also known as OLEV approved installers for smart EV charging points in Eastbourne for both home chargers and workplace chargers. This means as OZEV approved we can install EV chargers to claim the government grants.
If you're already driving an electric vehicle, have one on order waiting in anticipation or your considering your options for your next car/van we've put together a check list below to show our customers what we doing during a site survey at your home for an EV charger point. This may help you understand what does into your installation as it's not always as straight forward as plug and charge.
EV Home Charger Point Site Survey Checklist: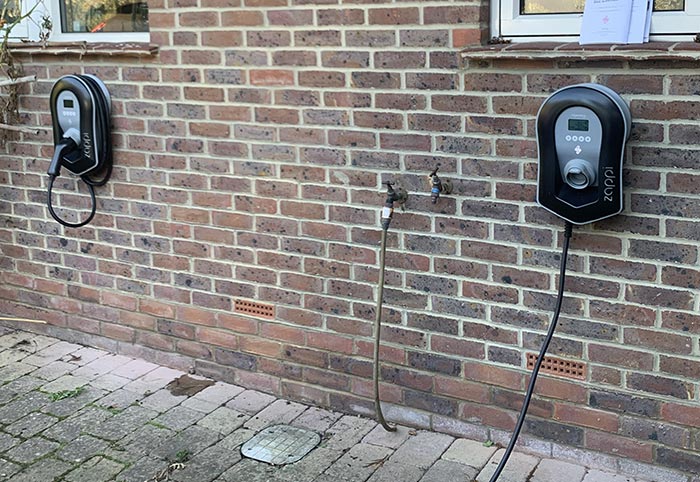 Is there adequate demand
Check the bonding
Identify supply characteristics
What type of earth system in currently being used
Rating and condition of the existing distribution equipment
Has the fixed wiring been recently inspected or check when next inspection is due
Check if planning permission is required
Is there surge protection installed
Check the mobile data signal available
Find a suitable location for equipment that customer is happy with
Is the proposed charge point location within WiFi range
Is there capacity on the customers existing router for additional connection
Carry out a risk assessment for the installation
Electrical Vehicle Homecharge Scheme (EVHS)
The EVHS is a government grant where you could receive up to £350 towards your charge point installation. To be eligible for the grant you must use and approved OZEV also know as OLEV installer and install an approved OZEV charging point, to view what charge points are OZEV approved click here. The EVHS ended on 31st March 2022 with a new grant scheme in place but this is aimed at homeowners that live in flat or people in rental accommodation, you'll find this is basically the same criteria as the EVHS scheme for approved charger points and approved installers. To find out more check out our EV charge point grant flat owners & rented accommodation here.
Jargon Buster
EV- Electric Vehicle
OZEV – Office of Zero Emission Vehicles
OLEV – Office of Low Emission Vehicles
EVHS – Electrical Vehicle Homecharge Scheme
Not 100% sure on what car to look at? Take a look at Top Gear's Best Electric Cars 2022 countdown here to give you give tips and ideas that my benefit you.